The BIG-HAWK ™ Scoped-Handgun Shoulder Holster in Black; for a Classic, Scoped, Colt Trooper 6" w/ Custom Grips along with Lawman Leather Goods BRAND Founder's old, favorite hat and Big Game souvenirs. The BIG-HAWK ™ carries your heavy, scoped gun in complete comfort for many hours of stalking, and allows a clean draw; no nylon or abs—just the Highest-Quality, metal hardware, Top-Grain Leather Harness and Premium Bridle Leathers! The BIG-HAWK ™ ! The ORIGINAL Scoped Handgun Shoulder Holster and the BEST!
Old-World, Handmade Quality.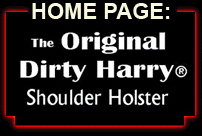 Owned by the
ORIGINAL MAKER & TRADEMARK OWNER!
CUSTOM ORDER: Call (361) 389-4566

This Lawman Leather Goods (TM) Website is Copyright © 1975-2016 Jerome Mark Ardolino of Texas - All Rights Reserved